Welcome to the Westdale Hills Resident Event Page!
In an effort to help you feel connected to your neighbors and a part of this community, Westdale Hills has partnered with Apartment Life. Apartment Life team members live on-site and work to enrich the lives of Westdale Hills residents. They plan monthly social events, educational seminars, and other activities based on your needs and interests. In addition, they serve and assist residents in times of special need such as job loss, illness, death of a loved one, birth or any other life event.

Residents are a vital part of our community, and the Apartment Life team want you to feel at home. Please come get to know us at monthly resident events - they are free and they are for you! We realize that you need more than just a place to live: you need to belong, friends and occasionally a listening ear. The staff at Westdale Hills and the Apartment Life team are here for you!
January 2020 Calendar is out!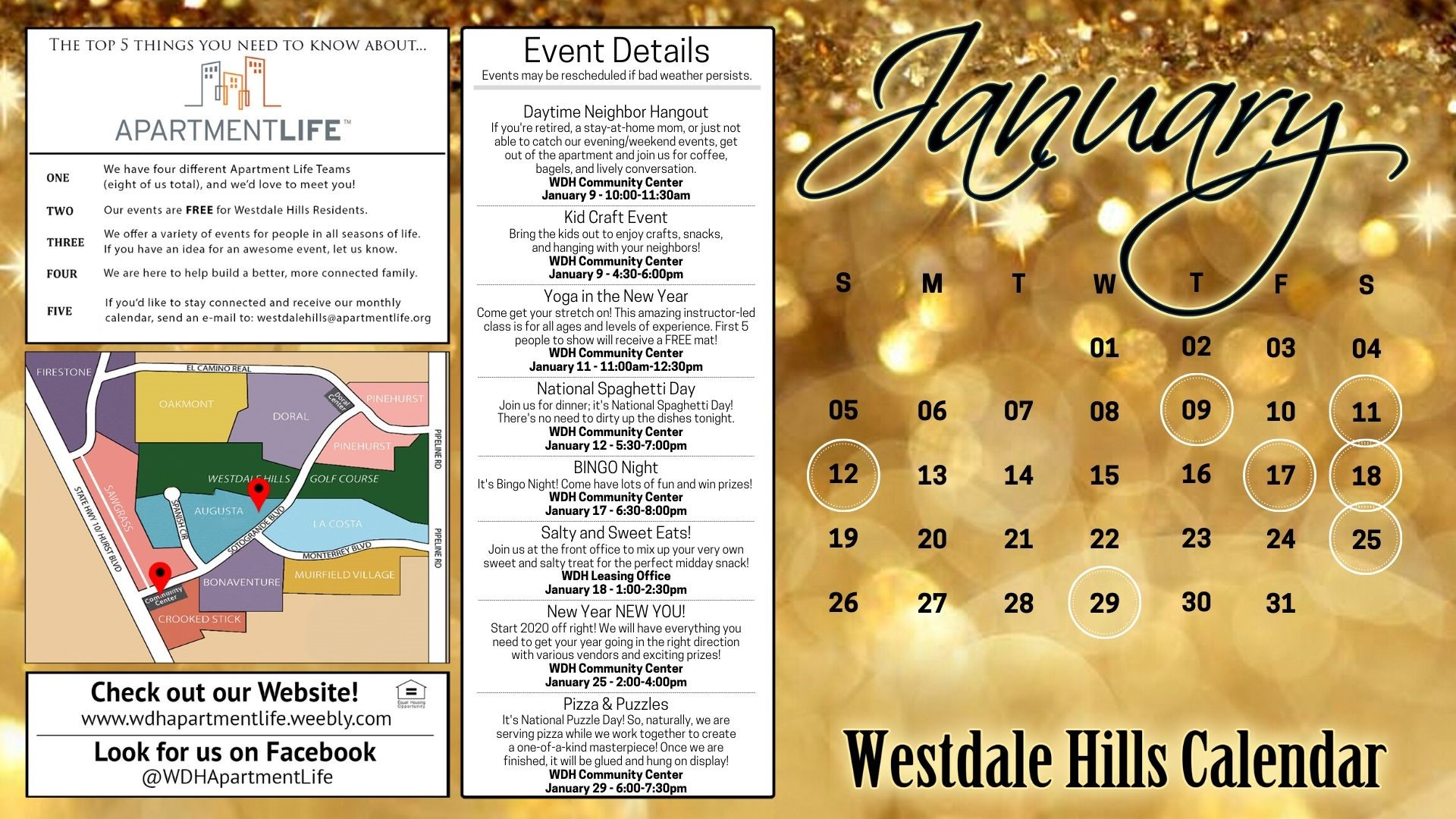 Events
Daytime Neighbor Hangout
10:00am - 11:30am
WDH Community Center
If you're retired, a stay-at-home parent, or just not able to catch our evening/weekend events, get out of the apartment and join us for coffee, bagels, and lively conversation.
---
Kids Craft Event
4:30pm - 6:00pm
Bring the kids out to the Westdale Hills Community Center to enjoy an afternoon of crafts, snacks and hanging out with neighbors.
---
Beginners' YOGA Class
11:00am - 12:30am
Westdale Hills Community Center
Come get your stretch on! This amazing instructor-led class is for all ages and levels of experience. First 5 people to attend will receive a FREE mat!
---
Spaghetti Dinner
5:30pm-7:00pm
Westdale Hill Community Center
Join us for dinner! There's no need to dirty up dishes tonight!
---
BINGO Night
6:30pm - 8:00pm
Westdale Hills Community Center
It's Bingo Night! Come have lots of fun and win prizes!
---
Salty and Sweet Eats!
1:00pm - 2:30pm
Westdale Hills Leasing Office
Join us in the front office to mix up your very own sweet and salty treat for the perfect midday snack!
---
New Year NEW YOU!
2:00pm- 4:00pm
Westdale Hills Community Center
Start 2020 off right! We will have everything you need to get your year going in the right direction with various vendors and exciting prizes!
---
Pizza & Puzzles
6:00pm - 7:30pm
Westdale Hills Community Center
Join us for pizza while we work together to create a one-of-a-kind masterpiece!
---